Go down for english version.


Il est possible d'utiliser les fonctions masque d'inkscape-0.44 pour texturer des objets, c'est encore un peu complexe, mais c'est tres puissant. Le masque est en fait l'équivalent du masque de calque dans Gimp. C'est a dire une utilisation de la valeur lumineuse de la couleur comme transparance avec le noir representant la transparence et le blanc l'opacité.
Voici une méthode pour arriver à ce que l'on a dans la première image :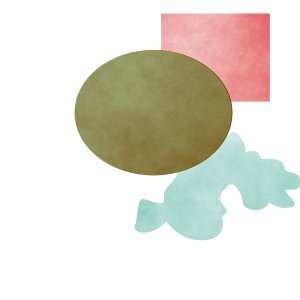 Vous pouvez déjà récuperer le SVGZ et la texture, à placer dans le même répertoire, pour le voir activé.
La texture est crée sous Gimp :
Créer une nouvelle image (Fichier=>Nouveau…) de 300×300 pixels.
Créer une texture plasma (menu de l'image : Filtres=>Rendu=>nuages=>Plasma).
Sauvegarder le fichier au format png (Fichier=>Enregistrer sous… mettre par exemple plasma.png)

Passer ensuite à Inkscape, l'animation ci contre montre les différentes étapes :
Creer differentes formes, avec différentes couleurs au choix.
importer la texture avec Fichier=>Importer…
Placer la texture de façon à recouvrir tous les objets.
Sélectionnez tous les objets avec le menu Édition=>Tout sélectionner (ou CTRL+A)
activer le masque (l'objet le plus en haut sert de masque, normalement l'image doit être au dessus du reste), par Objet=>Masque=>Définir.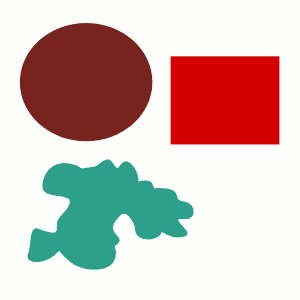 Vous pouvez maintenant tout desélectionner et déplacer ou modifier les objets à volonté et surtout changer leur couleur, ils sont maintenant texturés, mais il y a cependant un problème (ou une caractéristique très puissante), ils sont translucides…
Pour résoudre cela, il y a une petite astuce qui peut être automatisée avec un script :
Sélectionner un objet.
le dupliquer par Édition=>Dupliquer (CTRL+D)
Tout desélectionner puis resélectionner le premier object SANS RIEN BOUGER (car l'original et le duplicata sont actuellement sélectionnés)
Détacher le masque texture de l'objet par Objet=>Masque=>Retirer.
Désélectionner a nouveau tout, puis sélectionner la texture puis l'effacer.
Changer l'objet par un remplissage blanc opaque.
Le descendre sous l'autre objet(touche Page bas/Page down)
mag+sélectionner l'objet puis les grouper par menu Objet=>Grouper (Ctrl+G)

Et voila. Vous pouvez éventuellement entrer dans le groupe et changer la couleur de l'objet du dessous, rechanger la couleur de l'objet masque, voir le dupliquer puis changer sa couleur de nouveau, et jouer avec autant d'épaisseurs et de couleurs que vous désirez.
---

Inkscape-0.44 allow to use mask function to texture objects, it's a little bit complexe actually, but also already powerfull. The mask in SVG is like the layer mask in gimp, a feature that transforme color value to alpha channel (white is opaque, black is transparent).
Here is a method to obtain something like first picture: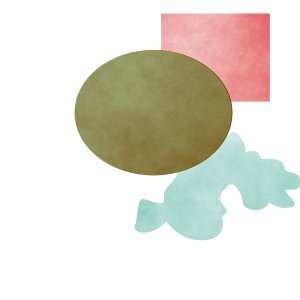 First, you can download the final SVGZ and the texture texture (to place in the same directory) to see it in use.
Texture was created with Gimp :
Create new file (menu file=>new), 300×300 pixels
Crete texture by (picture menu Filters=>Render=>Cloud=>Plasma).
save the picture by File=>Save as, in png format (call it for example plasma.png).

Now launch Inkscape, the right side animation show the steps:
Create few random shapes with color of your choice.
Import la texture, with File=>Import…
Place the picture over the shapes.
Select all objects with Edit=>Select all (or CTRL+A).
Activate the mask, the top object is used as mask (if everything goes right, in your case, this must be the texture picture) by menu Object=>Mask=>Set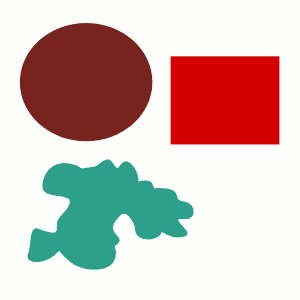 The texture is then placed on objects, you can deslect all and move or modify or change color on textured objects as you want, but they have a specific problem (or powerfull thing), they have transluency.
To resolve this there is a little trick that can be automatized with a script :
select one object
duplicate it by Edit=>Duplicate (CTRL+D)
deselect all and select one WITHOUT MOVING ANYTHING (as both original and duplicate are actually selected).
Remove texture mask from selected object by Object=>Mask=>Release
Deselect everything again, select texture picture and delete it.
Change the object to full opaque white filling
move it down under other object (page down key).
shift+select the textured object, group them (menu object=>Group, Ctrl+G).

Et voila! You can if you want enter in group, change the white opaque texture to other color, change mask color, duplicate mask with several different colors and everything you can imagine.