Cet article est également disponible en français


Google claims about some censorships in China, but what about united states censorship?
I already wrote an article about North Korea map censorship on maps.google.com, this is not a North Korean censorship as other map tools display them (international cooperative project openstreetmap.org, that done great job for helping first aid during Haiti earthquake, and the French cartographer Michelin that become bad on street search anyway).
On other side, there is censorship on Google's Youtube video site, totally forbidden (at least) from Mainland China and Australia. Then they moved from mainland Chine (People Republic of China) where it has less than 30% user share and Baidu has more than 60% user share, to Hong-Kong (People Republic of China), not to Taiwan (Republic of China), island controlled by Chinese nationalist party, backed by US but still not accepted by UNO.
But the subject that is actually my problem is about search on mixing of Jazz, Afro-american music and French term 'Peul' (Fula in english) African music , could be an omission, but this is really annoying, for a country that invaded several Fula area (Senegal, Mali, Burkina Faso, etc…) and then accepted refugees from it's former colonies. Searching by English terms 'Jazz Fula' seems to work, but even on fr.google.com/bing.com nothing good, only wrong answers about 'Jazz Paul', this is really annoying, because Peul culture is really popular in France and jazz and peul mixing is really good suited and liked by lot of people.
dir.com, only french speaking search engine, and Baidu chinese search engine, are infinitely better on results has there is more than zero good results (and even several)…
United-state search engine, Google and Bing wrong results: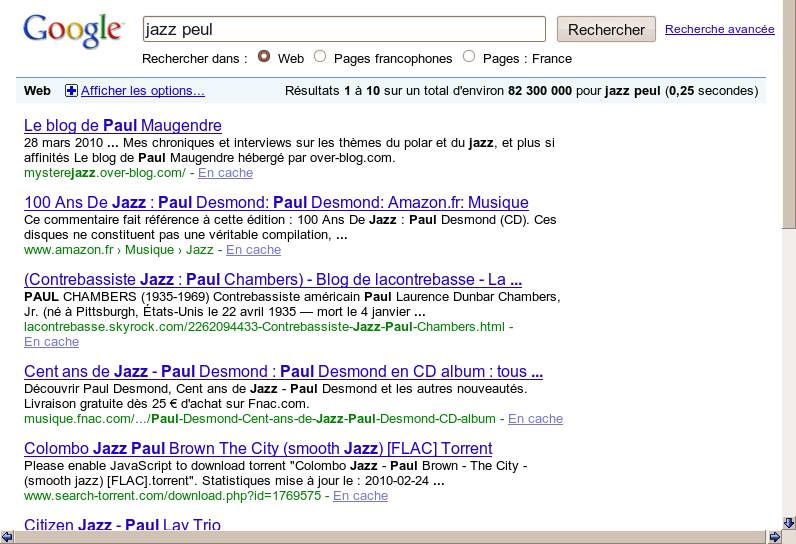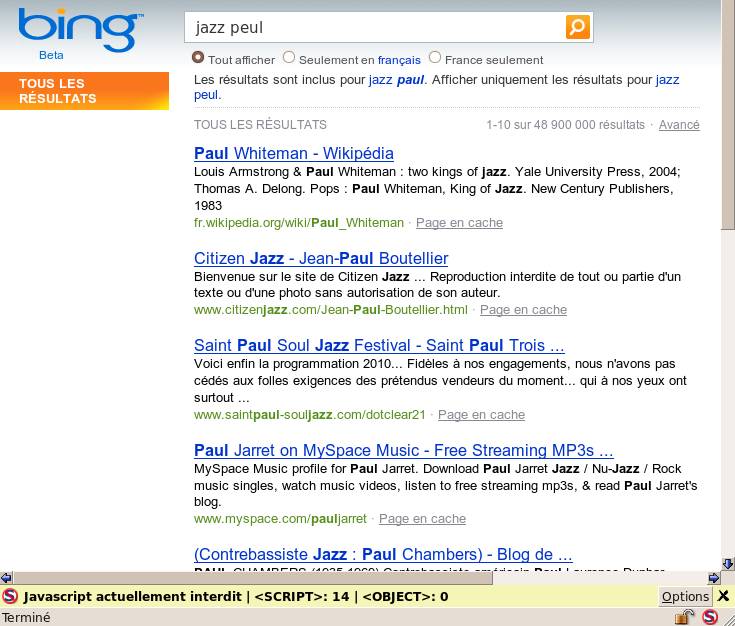 French dir.com from Iliad group (Free) and Chinese Baidu.com interesting matching results. Baidu that is really chinese centric has some encoding problems with French accents (not basic 128 ASCII chars), but give really good results, the usage is as simple as other search engine, type your search words, hit enter: